The 2018 Mercedes-Benz E-Class Debuts Revolutionary Technology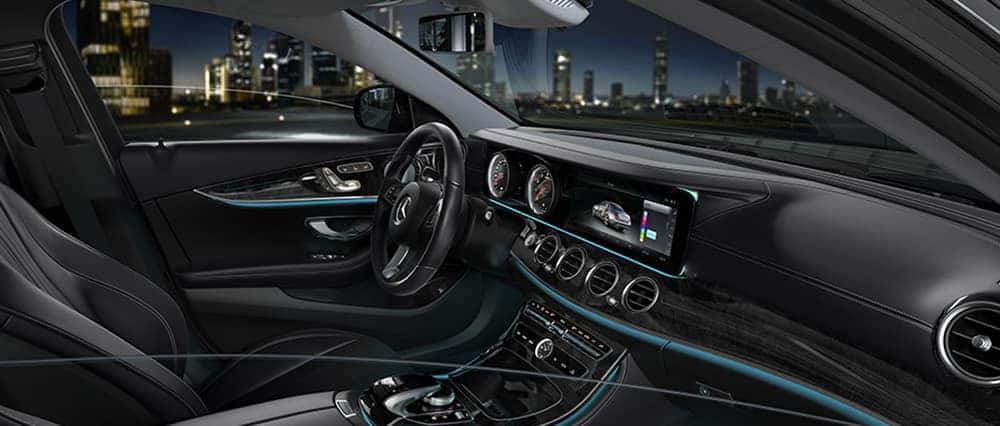 The 2018 Mercedes-Benz E-Class is the most advanced E-Class yet, with spotlight-stealing technology, alongside world-class driving dynamics and sweepingly elegant bodywork. The technology available in the E-Class turns your luxury vehicle up a notch, so whether you want a soothing massage in your heated seats for your weekend trip west to Houston, or a touchscreen that integrates comfort with entertainment, you can trust that the E-Class is the next generation class of vehicles for modern drivers in our modern times.
Control
Thenew Mercedes-Benz E-Class mounts a panoramic 12.3-inch screen along the dash for navigation, entertainment and comfort features. It's joined by:
Optional second 12.3-inch graphical instrument cluster for driving data
Two pads, with functionality and power of the newest smartphone, to control features without removing hands from the wheel.
Standard COMAND®® navigation with 3D mapping, live traffic, lane-change advice, and Yelp or HERE™ search function.
Touchpad controller that reads your handwriting, taps, twists, swipes–even pinches.
Entertainment and Connectivity
With Bluetooth® audio, HD Radio receiver, Apple CarPlay, and Android Auto included as standard, the 2018 Mercedes-Benz E-Class can stream from your personal device, pick up thousands of radio stations, and integrate smartphone features and apps with its onboard technology.
To stay tuned-in while you spin your favorite tunes, use the available in-car 4G LTE Wi-Fi hotspot. And keeping the kids happy during longer drives has just become easier: use the Rear Seat Entertainment and Comfort Adapter, fix a tablet behind the front seat headrest, and your kids can view their favorite shows on the go. And to add to these cutting-edge connectivity features, equip yourself with state of the art sound by selecting the available 13-speaker, 590-watt Burmester High-End 3D Surround Sound system.
Safety
Whether cruising between Lake Charles and Lafayette at the dead of night or hitting I-10 in Beaumont during rush hour, the following state-of-the-art safety technologies keep you in control:
Car-to-X Communication: Sends in-car updates about driving conditions before you get to them.
PRESAFE® Sound: Emits a safe "pink noise" to warn you if an impending collision is detected.
PRESAFE® Impulse Side: This innovative feature prepares for side impact by rapidly inflating the front-seat bolster.
Drive Pilot: Keeps you between the lines through curves and changes lanes automatically at the touch of your turn-signal lever.
Active Steering Assist, Blind Spot Assist, and Lane Keep and Lane Change Assist: these helpful safety features, among countless others featured on the E-Class, make stressful highway driving a breeze, so that changing lanes or zooming down the highway not only exhilarates, but is safe, as well.
2018 Mercedes-Benz E-Class Technology is Unprecedented
The features listed above only scratch the surface of 2018 Mercedes-Benz E-Class technology.Contact us today to find out more or explore yourfinancing options.